Family Funday – Saturday 24 June 2023 1pm – 5pm, Malvern Town Football Club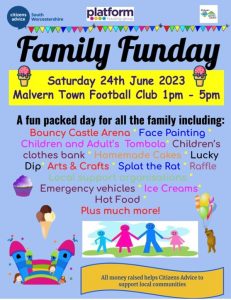 In 2019 Citizens Advice celebrated 80 years of service to our nation. Some of our past fundraising events are shown below.
PREVIOUS EVENTS
The Citizens Advice South Worcestershire Charity Owl Swap – June 2020
A member of our CASW team has kindly knitted us a beautiful family of owls and we would like to offer them to you. However, we are not asking for money for these owls. We would like you to offer us an item to trade for these owls. The item you swap with us will become the starting point for our next trade. We are looking to have a series of trades getting a little bigger and better every time, reaching a final item we will auction to raise funds for our amazing Citizens Advice South Worcestershire Charity.
If you think you have an interesting item that you would like to trade for our beautiful knitted owls, please contact us on
fundraising@citizensadvicesw.org.uk

. Please send us a photo of the item and a brief story about it.
The funds we raise will help our amazing charity continue to help over 6000 people in South Worcestershire every year.
Keep up to date with our owl family's progress on our Facebook page.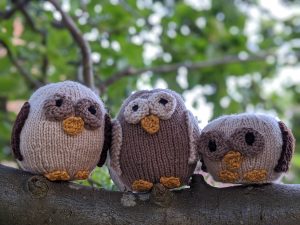 Charity Ball and Auction of Promises in aid of Citizens Advice South Worcestershire – 7 November 2019
,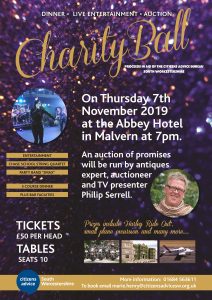 Supporters of Citizens Advice South Worcestershire enjoyed an exciting evening including an Auction of Promises run by local antiques expert, auctioneer and TV presenter, Philip Serrell. Tickets included a three-course dinner, with music provided by The Chase School String Quartet and party band Smax.
Fun Quiz at the Red Lion, Malvern – 28 October 2019
Another successful and extremely well-attended quiz evening was held with all the usual rounds. A good time was had by all – winners and losers.
Sunday 22 September 2019 – Young Malvern 4k Fun Run
Following on from last year's highly successful event, this year's charity fun run for young people aged 10-16 years (school Years 11-16) took place again on Sunday, 22 September.
The event raises money for Citizens Advice South Worcestershire and is a great day out for all the family with medals and goody bags for all participants plus prizes for the top fundraisers and refreshments for parents and supporters!