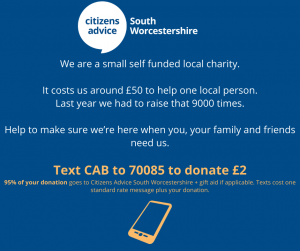 We offer a free service because we believe cost should never be a barrier to help.
We also believe there is a powerful need for a service that is local, accessible and with real people who will meet you face to face and have the time to understand your problems.
If you believe that too, please donate and help us to be here for you, your family and friends, now and in the future. All the money you donate will be used solely for the benefit of the local community.
Thank you.
Other Ways to Donate
By sending a cheque to either of our two main offices payable to Citizens Advice South Worcestershire

By standing order – please contact us for details
Gift Aid
The value of your donation can increase by 25% under the gift aid scheme at no extra cost to you. This is because the charity can reclaim 25p for every £1 you donate so long as you will pay enough UK tax to cover your donation.
If you would like to gift aid your donation, please click to download and fill in this form CASW Gift Aid Declaration and send it with your cheque. Gift Aid donations can also be made online via our Just Giving page.
Other ways to support us
If you would like to hold an event in aid of Citizens Advice South Worcestershire, please download our free guide Fundraising Guidance. See our Fundraising page for past and upcoming events.
For information about leaving a legacy please download our Legacy-leaflet or contact us at enquiries.malvern@citizensadvicesw.org.uk.