Weight Management Programme
Our Lifestyle Service is running a FREE 12 week group starting soon in Malvern. Aimed at men who would like to improve their fitness and lose weight in a small and friendly group. Beginners especially welcome! Find out more here.
Lifestyle Advisor Service online sessions
 17th November 2021 4.00-4.40 pm – Living Healthier: Small Changes – Big Impact
The aim of the online session is to explore why we are often motivated to make changes but struggle to make them happen. We want to help you to explore goal setting techniques and support strategies to be more successful in making changes happen.
1st December 2021 4.00-4.40 pm – Living Healthier: How to Stop Smoking
What are the key factors for success? We want to help you to explore whether you are ready to stop smoking to improve your health. Make the change with Smoking Cessation Support.
The online sessions will be taking place on Zoom. If you get in touch we will send you a link with all details via email.
If you would like to take part, get in touch: sabine.spires@citizensadvicesw.org.uk, mobile 07932 387145
Click here to find out more about the Lifestyle Advisor Service.
Coronavirus
Due to guidance on COVID-19 we have suspended our face-to-face sessions. Our volunteers will be providing advice by telephone and email as follows:
Malvern
To speak to an adviser, please ring 01684 563611 option 1, or email 

enquiries.malvern@citizensadvicesw.org.uk
This service is available Monday, Tuesday, Thursday, Friday from 10.00 am to 3.00 pm
Wychavon 
To speak to an adviser, please ring 01386 712100 option 1, or email 

enquiries.wychavon@citizensadvicesw.org.uk
This service is available Monday, Tuesday, Thursday, Friday from 10.00 am to 1.00 pm
The Worcestershire Adviceline is also available Monday-Friday from 10.00 am to 4.00 pm on 0808 278 7891
Universal Credit Support Service
If you want help to complete your first Universal Credit application please ring 01386 712100 option 2. Your contact details will be taken and an adviser will call you back as soon as possible.
Social Prescribing
Social prescribers at Citizens Advice South Worcestershire will be supporting communities through this difficult time by maintaining phone contact with vulnerable clients and promoting local initiatives.
Click here to download details of where to get the help you need or find out how you can help.
Help for businesses
A full range of business support measures has been made available to UK businesses and employees. Follow the links to find financial support for your business and help if you are self employed.
The Government has set up a business support helpline on 0300 456 3565. This is available Monday to Friday from 9.00 am to 6.00 pm.
Click here for information on support available to businesses in South Worcestershire. You can also sign up for a regular email newsletter.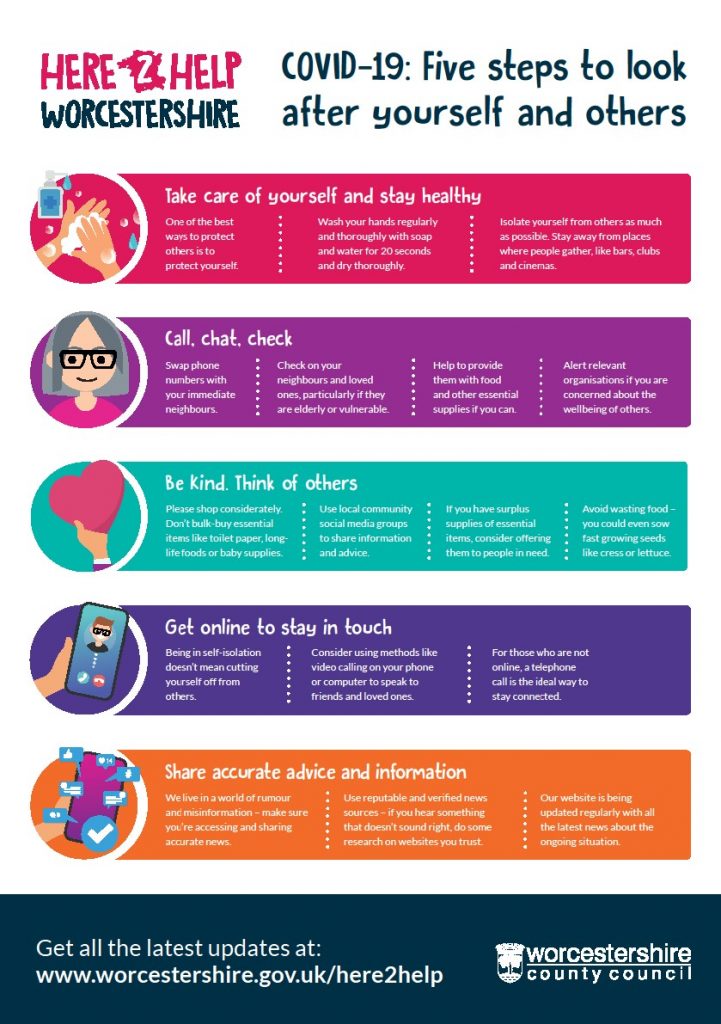 Online Information
For general information on Coronavirus and how it may affect you, click here.
Brexit – what it means for you
The UK has left the EU and the UK and EU now have until 31 December 2020 to agree the new rules of how they work together. This means your rights will stay the same until after 31 December 2020 – there are no immediate changes.
We'll publish new advice to help you understand any changes when they're announced. We'll also update our existing advice.
If you're an EU citizen, you need to apply for an immigration status to continue living in the UK.
Click

here

for more information.
Want to sort out your finances?
You should contact Citizens Advice South Worcestershire immediately if you've received court papers, are facing eviction or are expecting bailiffs. Our contact details can be found from the Home page.
The Citizens Advice online budgeting tool can help you understand what you're earning and spending and where you might be able to cut costs. Check it out now.
Citizens Advice South Worcestershire Fundraising Campaign
Find out how you can help your local Citizens Advice office to raise funds to ensure we can continue to provide support to the people of South Worcestershire.